August 4, 2020
Sleeping under the stars is one of the perks of bushcraft or camping outdoors. Bringing a sleeping bag with you is one way to help make sleeping outdoors more comfortable and enjoyable. However, when you have to carry your sleeping bag with you, it's important you understand what to look for in a sleeping bag and the different types of sleeping bags you can choose from. This guide provides useful tips to buying the best sleeping bag for bushcraft and camping to help you have the best nights sleep on your next outdoor adventure.
What to Look For in a Sleeping Bag
Temperature Rating and Seasonality
The temperature rating of a sleeping bag is designed to give you an idea of the temperature at which an average sleeper can sleep comfortably in. Other factors such as whether you use a sleeping pad, the wind and humidity of the environment, and your own body's metabolism can also affect your comfort level in a sleeping bag.
Most sleeping bags fall into one of three temperature ranges:
Summer Season Sleeping Bags – ideal for temperatures of 30°F and higher
3-Season Sleeping Bags – ideal for temperatures from 15°F to 30°F
Winter or Cold Weather Sleeping Bags – ideal for temperatures of 15°F and lower
A good rule of thumb is to choose a sleeping bag rated for a temperature a little lower what you'll be sleeping in. It's easier to unzip a sleeping bag to cool off a bit than it is to sleep while you're cold. Remember, the temperature drops at night and mountain temperatures are quite a bit cooler than temperatures at lower elevations.
If you're sleeping outdoors throughout the year, in a wide range of temperatures, consider getting two sleeping bags – one for warmer weather and one for cold or winter weather. If you're planning on camping in an area that doesn't have such a range of weather or temperatures, buying a solid 3-season sleeping bag should be sufficient for most of the year.
Sleeping Bag Fill Type – Down or Synthetic
Most sleeping bags use either down or synthetic material for insulation. There are pros and cons to each type of filling. Price, weight, and performance in wet weather are some of the main differences.
Down-filled sleeping bags tend to be more expensive than synthetic, but they also tend to offer the most warmth. This makes them an ideal choice for winter camping or camping in cold, dry weather. Down sleeping bags are also more lightweight and compress more for easier packing.
In wet weather, some people prefer synthetic-filled sleeping bags because the synthetic insulation does a better job at keeping you warm even when it's damp. In addition, sleeping bags with synthetic filling are generally lower-priced than down sleeping bags.
Down filling is more durable than synthetic fill. Over time, synthetic fill can pack down, impacting the amount of warmth the sleeping bag offers. So be prepared to purchase a new sleeping bag within a couple of years if you go the synthetic route. Conversely, a down-filled sleeping bag could last decades if properly cared for.
Weight
When shopping for the best sleeping bag for bushcraft or camping, you must consider the weight. This is especially important because you have to carry the sleeping bag with you, in addition to the rest of your bushcraft gear. Sleeping bags can range in weight from as little as 1.5lbs to as heavy as 17.5lbs or more.
The main things that contribute to a sleeping bag's weight are the type or amount of insulation and the shape of the sleeping bag. Not to be confused with the insulation fill weight, the carry weight is how much the sleeping bag weighs in its entirety (the actual weight of the bag you'll be carrying in your pack.) The insulation fill weight is how much the insulation in the bag weights. High-fill-power down and advanced synthetic are more efficient fills that provide the most warmth for less weight. Additionally, mummy-shaped sleeping bags use less fabric and therefore weight less than rectangular sleeping bags.
Ideally, if the temperature allows, you'll want a lightweight sleeping bag or ultralight sleeping bag for your backpack, such as the Western Mountaineering Sycamore MF 25 Degree Sleeping Bag which is rated for 25°F and weighs just 2lbs. This ensures you aren't carrying unnecessary additional weight on your back.
Sleeping Bag Shape
Sleeping bags are available in a variety of shapes. The main difference between the shape of the sleeping bag is the fit around your body or the amount of room you have to move around once you're zipped in. The most popular shapes are:
Rectangular: Shaped exactly as it sounds, rectangular sleeping bags offer the most room for sleeping. When you're zipped in, you can easily move your arms and legs. Due to the larger size, rectangular sleeping bags are generally heavier than other sleeping bag shapes. Because sleeping bags keep you warm by trapping your body heat inside, it's harder to keep the larger rectangular sleeping bags as warm as some of the other shapes.
Mummy: Mummy sleeping bags are designed to fit more snugly around the body. This provides better insulation and greater warmth because there's less "dead" air for your body to heat up inside the bag. It's a snug fit and offers little room to move around once zipped in. Because of the mummy bag uses less fabric due to the cut shape, mummy bags are often much lighter than rectangular sleeping bags. This makes them a popular choice for bushcraft and camping trips. However, some are uncomfortable with the form-fitting cut and movement restriction.
Semi-rectangular: The semi-rectangular sleeping bag bridges the gap between a mummy bag and a rectangular bag. It is still cut more snugly than the traditional rectangular sleeping bag but not as much as a mummy bag, leaving a little more room for limb movement. It is also lighter and provides better warmth than a rectangular bag. Semi-rectangular sleeping bags are also known as a "modified mummy" or "barrel" shaped bags. They're a good compromise for people who want more warmth and less weight, while also getting more sleeping room.
Gender – Men's Sleeping Bag vs. Women's Sleeping Bags
Just like men's and women's shoes are different, some sleeping bags are designed for specific genders. Commonly found in mummy-shaped sleeping bags, the main difference between men's and women's sleeping bags is the shape.
Most mummy sleeping bags for women are available in shorter lengths, cut narrower in the shoulders, and provide more room around the hips. Because men produce more body heat than women, many women's sleeping bags also have more insulation than men's or unisex sleeping bags.
Different Types of Sleeping Bags
Rectangle Sleeping Bag
When it comes to general overnight camping, rectangle sleeping bags are a popular choice. Rectangle Sleeping Bags, like this Kelty Galactic 30 Sleeping Bag, offer room to move about while offering good insulation. They're available with both down and synthetic fill and are ideal for weather that doesn't get too cold.
Mummy Sleeping Bag
For the most insulation and warmth during cold Winter camping, a Mummy Sleeping Bag should be the first thing to consider. The snugger fit means that there's less air for your body to heat up, which allows you stay warmer more efficient. Additionally, mummy sleeping bags are usually the most lightweight sleeping bag options. For example, the Western Mountaineering TerraLite 25 Degree Sleeping Bag weighs just 1lb, 13oz.
Semi Rectangular Sleeping Bag
If you want more warmth that isn't too constricting, a Semi Rectangular Sleeping Bag such as the Marmot Argon 25 Sleeping Bag, is the way to go. It is not as roomy as the traditional rectangle sleeping bag but offers more space to move than a mummy bag. They're typically lighter than rectangle sleeping bags as well (the Marmot Argon 25 is less than 5 lbs.) Many semi-rectanglar sleeping bags provide a comfortable sleep for 3-season camping.
Double Sleeping Bag
Double Sleeping Bags are two-person sleeping bags. Also known as Couples sleeping bags, these sleeping bags are what they sound like. A sleeping bag that's big enough for two people. Double sleeping bags are available in rectangle, semi-rectangle, or mummy in shape. Many, like the Big Agnes Sentinel 30 Degree Sleeping Bag, are also surprisingly lightweight as well.
Military Sleeping Bag
Military gear is a popular choice for bushcraft and survival gear. The military sleeping bag is no different. Military sleeping bags are designed to provide insulation in a variety of environments – from mild to very cold weather. While versatile in a wide range of temperatures, many of them, like this US Military Genuine Issue Sleeping System, are modular, consisting of several layers. For this reason, Military Sleeping Bags are a bit heavier than other sleeping bags and do not compact as well into smaller sizes. For this reason, we don't recommend military sleeping bags when you have to carry a lot of other gear for your trip in your backpack.
Emergency Sleeping Bag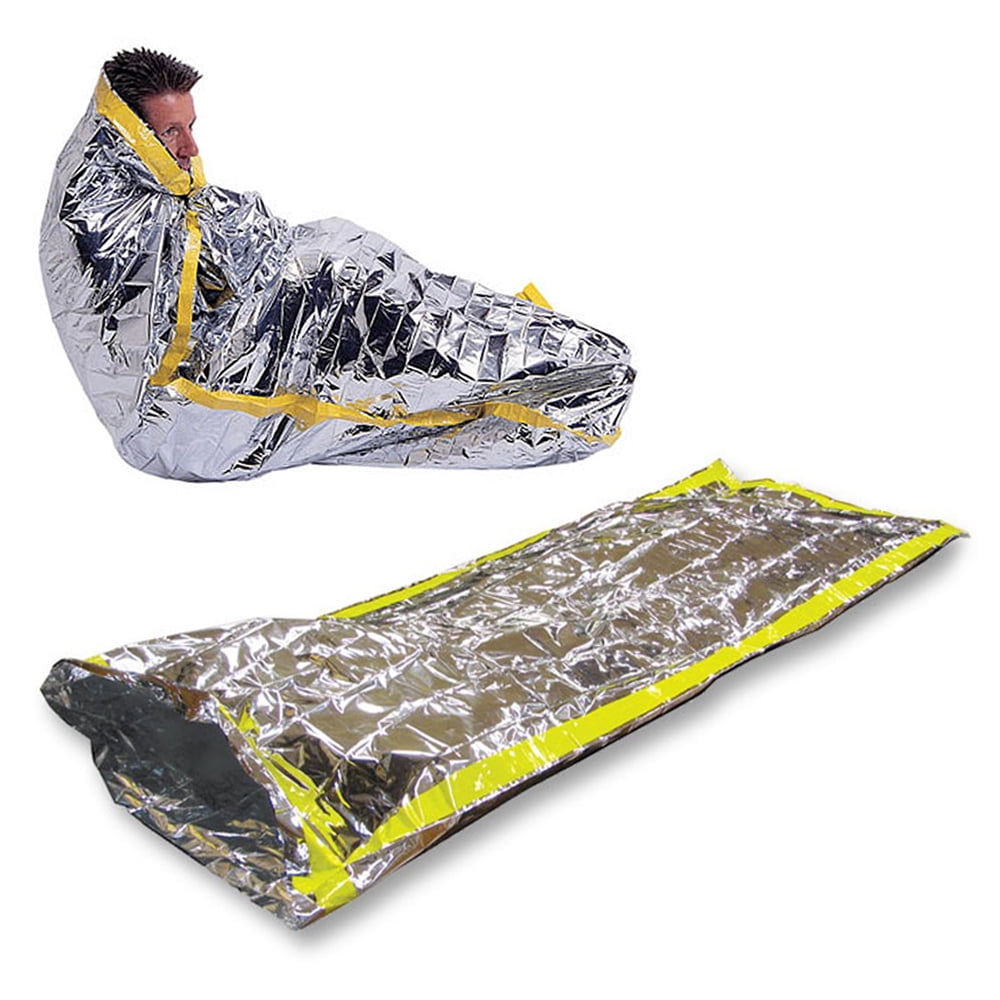 Unlike the other types of sleeping bags we've already mentioned, the Emergency Sleeping Bag, or Emergency Survival Sleeping Bag, isn't designed for comfort. Typically made from mylar or a bag with synthetic filling, these bags are meant to retain your body heat. A sleeping bag like this Emergency Survival Sleeping Bag is a great piece of gear to keep in your pack or car in case you have to sleep outdoors unexpectedly. However, it should not be considered a replacement for a traditional outdoor camping sleeping bag.
Best Sleeping Bag Accessories to Consider
Sleeping Pad
If you want to make sleeping on the ground more comfortable, then you'll went to grab a lightweight sleeping pad like the Therm-a-Rest NeoAir Xlite Sleeping Pad. In addition to giving you a more cushioned sleeping surface, sleeping pads also add an extra layer of insulation between you and potentially cold ground temperatures. Sleeping pads have an R-value that specifies how well it insulates your body from the ground. Pads with higher R-values provide more warmth. Many prefer to use an inflatable sleeping pad because it's lighter than foam or other materials. Make sure you choose a sleeping pad that matches the size of your sleeping bag.
Sleeping Bag Liner
Sleeping bag liners offer a variety of advantages. Not only do sleeping bags act as an extra layer of insulation while you sleep, but they also make it easier to keep your sleeping bag clean and smelling fresh. Sleeping bags are a bit more difficult to wash. Using a sleeping bag liner helps protect the interior of your bag from the dirt that comes with sleeping outdoors. Once again, you'll want to choose a lightweight sleeping bag that fits the size of your bag.
Stuff Sack
Many sleeping bags come in their own bags, but a stuff sack is a must to help compact your sleeping bag into a small package. Using a stuff sack will help your sleeping bag take up less space when packing or storing in your vehicle. If you're expecting rain on your camping trip, look for waterproof stuff sack to help keep your sleeping bag dry.
Note that stuff sacks should not be used for permanent storage as it may impact the performance of the sleeping bag's insulation. For long-term storage, pick up a storage sack.
Sleeping Bags to Avoid
There are a few things to avoid when shopping for bushcraft or camping sleeping bags.
Cotton Sleeping Bags
First, avoid cotton-filled. While perfectly fine for sleepovers, camping in your backyard, or outdoor trips you aren't hiking in to, cotton-filled sleeping bags tend to be on the heavier side. Also, cotton traps moisture and perspiration which may lead to chills in cooler weather.
Flannel-lined Sleeping Bags
Although flannel-lined sleeping bags may be comfortable, they aren't the best choice for bushcraft or camping sleeping bags. Flannel does not compact well and is usually heavier than sleeping bags made of other material. And, similar to the cotton sleeping bags, flannel traps moisture so they aren't ideal for damp and wet sleeping environments.
Heavy Sleeping Bags
If your shopping for the best sleeping bags for bushcraft or camping, you'll want to avoid heavy sleeping bags. When you have to carry everything to and from your campsite on your back, ever pound counts. Food, cooking gear, a water bottle, and various other important items also need to be carried. So the extra poundage and space taken up by a heavy sleeping bag usually isn't worth it. Especially when there are plenty of lightweight sleeping bags that provide enough insulation to keep you warm even in below-freezing temperatures.
Final Thoughts about Sleeping Bags for Bushcraft and Camping
As you can see, there are many options for the best sleeping bags for bushcraft and camping. Each type of sleeping bag has its own pros and cons. And the level of comfort the bag provides can have a variety of factors, including your own personal preference, such as whether you need more or less room to sleep.
Many serious campers will pick up two (or more) sleeping bags for their gear. This allows them to pack a sleeping bag most optimized for the season, temperature, and weather they're camping.
Before you buy a sleeping bag, take some time to research the specifications for the bag you're considering, along with a few other options, to see which sleeping bag works best for you.